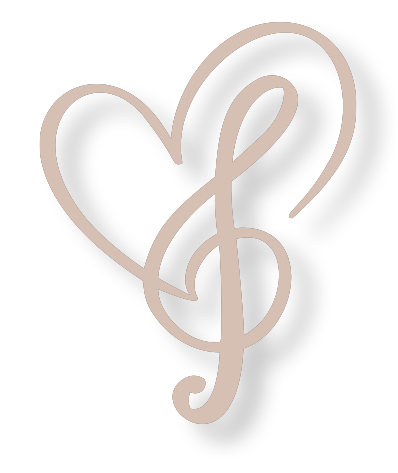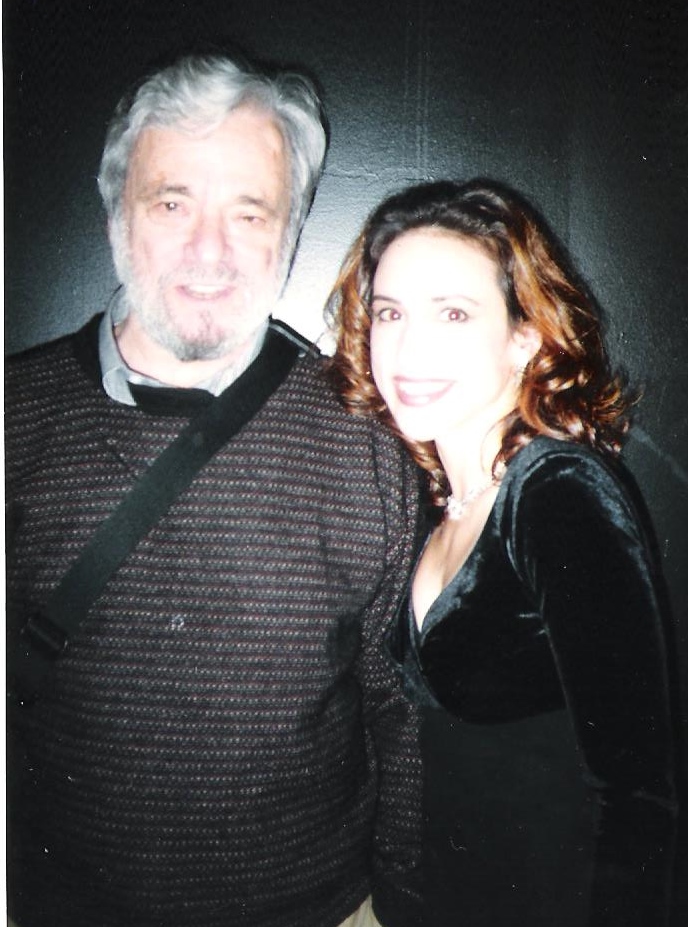 Stephen Sondheim
Opening Night of "Do I Hear a Waltz"
Tom Hanks & Rita Wilson
Opening Night of "Rent" LA Premiere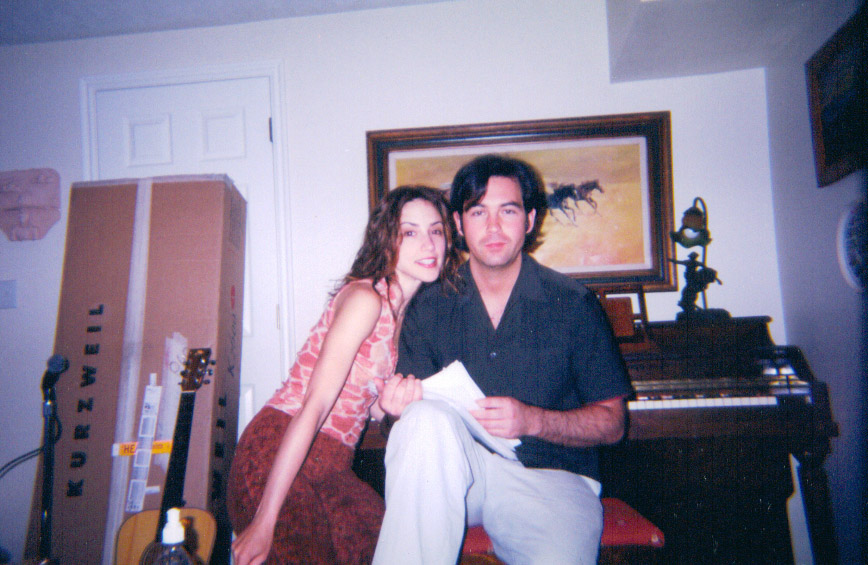 Duncan Shiek
"Spring Awakening" Original Workshop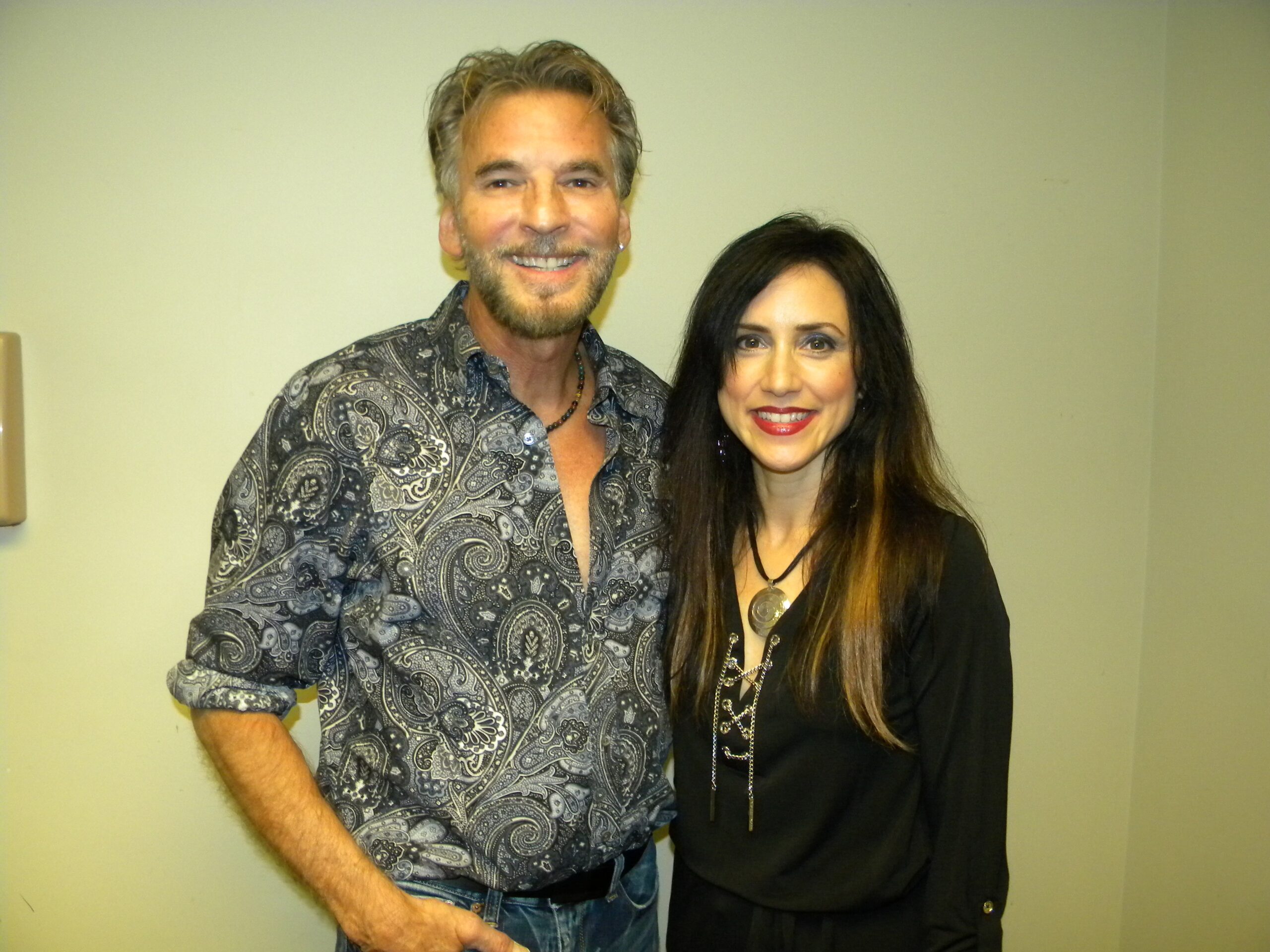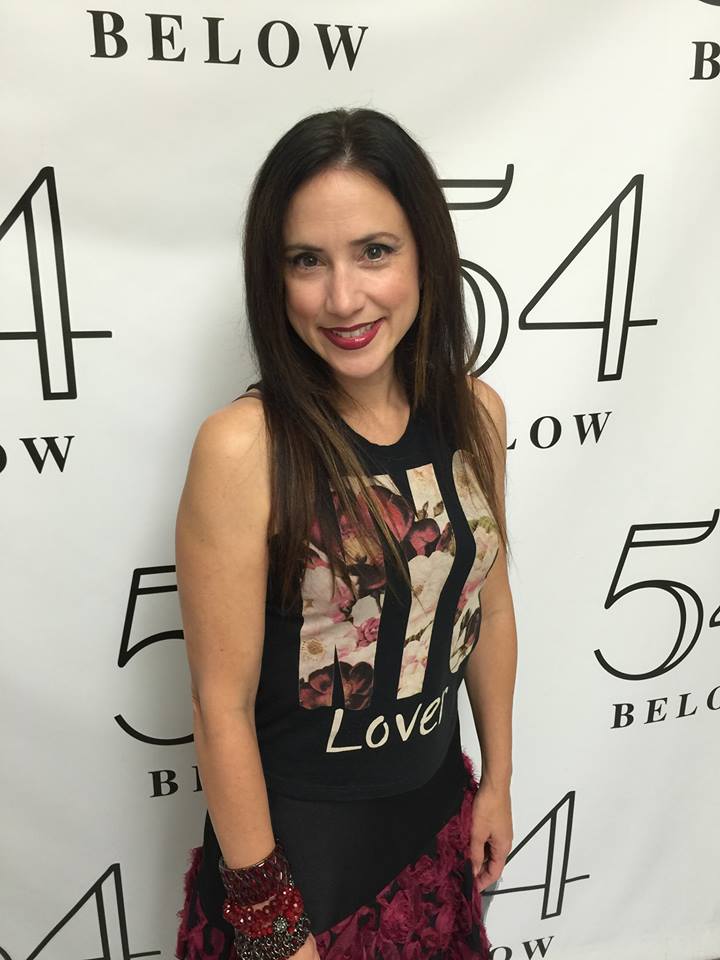 Carla
54 Below Showcase Performance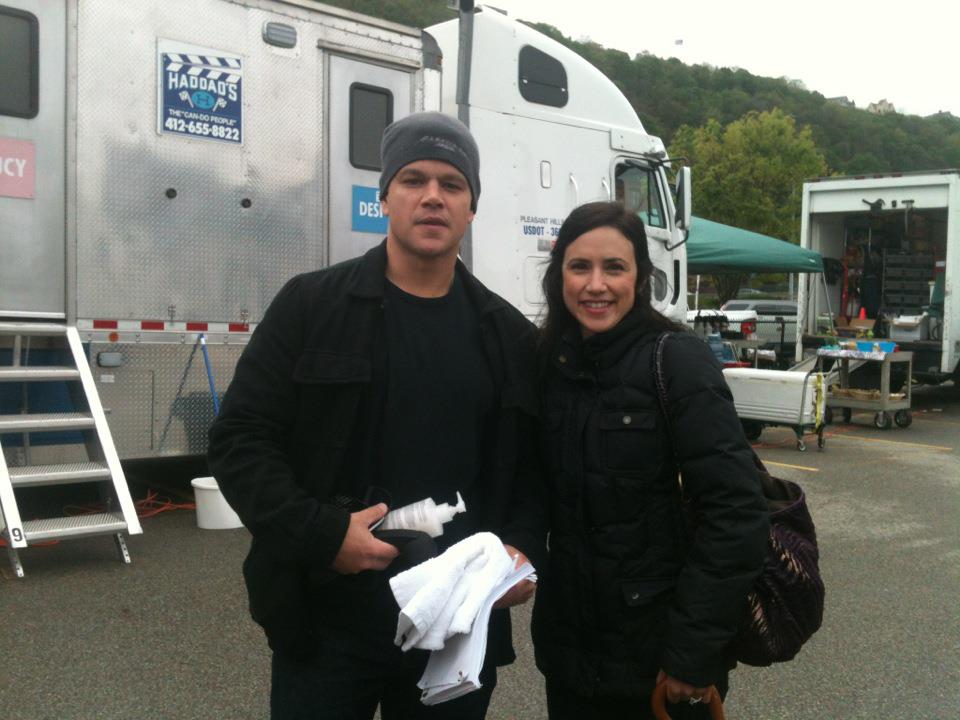 Matt Damon
On the Set of "Promised Land"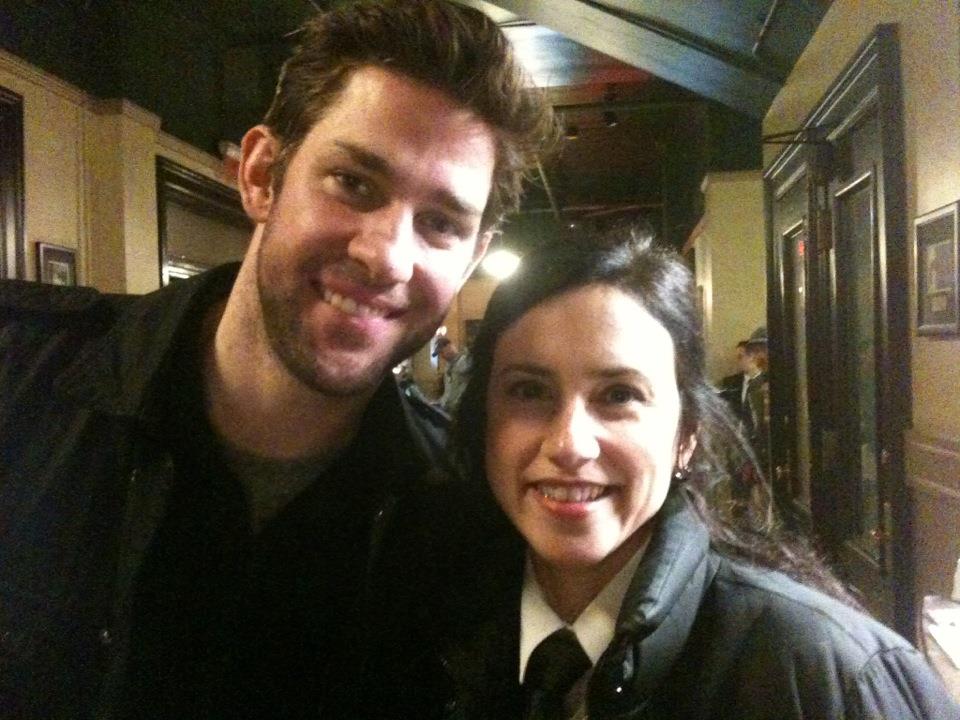 John Krasinsky
On the Set of "Promised Land"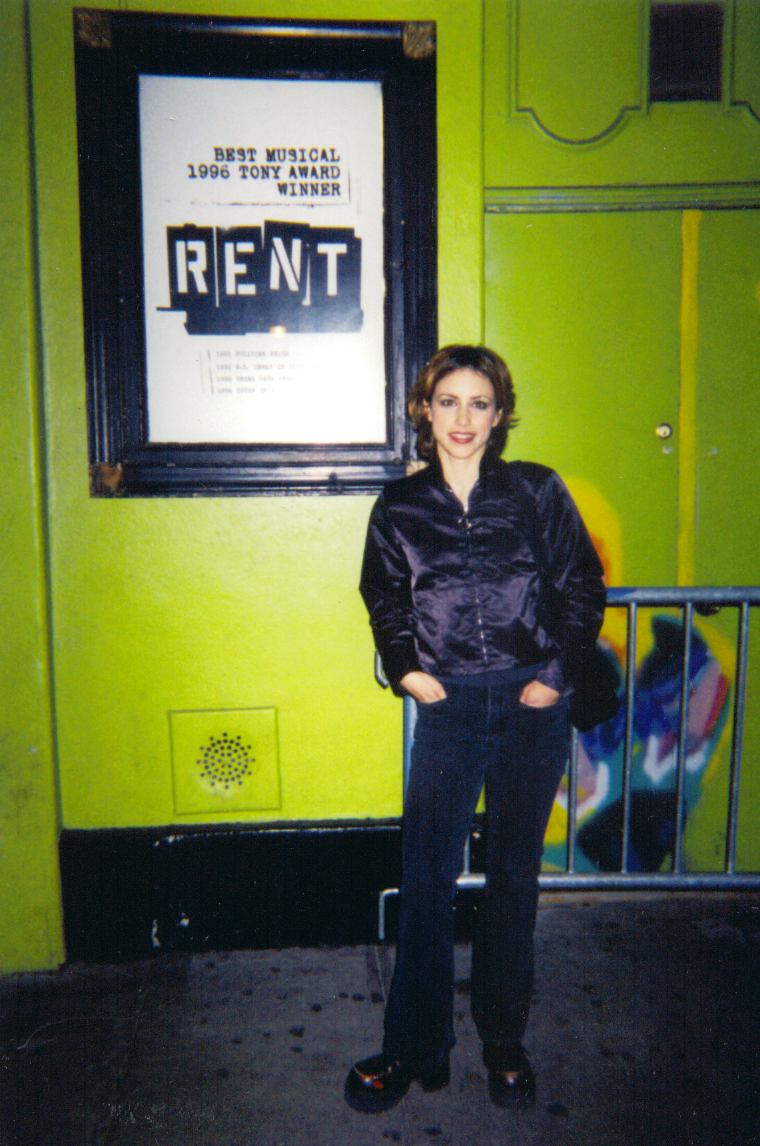 Carla
Backstage at the Premiere of "Rent"
Carla Bianco's life has been a masterclass of art and faith, a co-mingling of creation, discovery, and redemption. And while her upcoming EP is the first exclusively faith-oriented project the renowned performer has released, her entire body of work is indistinguishable from a life lived in the audience, care, and guidance of her Savior, her Guardian, her Best Friend. 
She is most well known for her riveting turn in the starring role of Maureen in the Broadway show Rent, but the chart-topping, award-winner's long career is a patchwork of charming beginnings and audacious leaps of faith.
She was just a precocious four-years of joy, love, and a song when she took center stage, belting out her favorite songs at a neighborhood party. A Styrofoam being passed around was soon overflowing with tips for the young singer.
 "It was my first gig," she recalls with a smile. 
A childhood in small-town Pennsylvania was punctuated by pasta dinners with her large Italian family and private concerts to "God and my cat" as the young singer-songwriter spent hours in her basement, pouring out her heart to her piano and her private audience, while her dreams of a life spent making music outgrew the reservations of her family and even her own self-doubts. 
 After some starring turns in the high school musical theater program she founded, she left for college with big dreams and an even bigger voice, with New York calling her name, all the while sharing the deepest longings of her heart with God, seeking His leading every step of the way. 
"One night, in anticipation of what my future held, I wrote a letter to God of how I wanted to share my songs with the world," she recalls. "I did not care about the fame or the money; I just wanted to use the talents He gave me according to his will."
It was one of many letters she'd penned to God since the age of ten, all signed the same way, to her Best Friend. 
With Him at her side, Carla ended up at New York University.  Her heart was set on landing a publishing deal with Jellybean Benitez, who had discovered world-renowned pop star, Madonna. Determined to have her songs heard, she waited for three days outside of Jellybean's office, hoping for an opportunity to meet the famous producer/songwriter/manager. 
When she finally caught his eye on the street, she ran up to Jellybean and begged him to give her a few minutes at the piano to show him what she could do.
Her self-assurance, vivacious personality, smooth-as-silk voice, and catchy songs landed her a production deal, a management deal, and a publishing deal with the hit-maker, also famous for producing pop music icons Whitney Houston, Barbara Streisand, Paul McCartney, Michael Jackson, and Sting. 
Jellybean placed a song she wrote called "Not This Time" on his next album on Atlantic Records, "And that's how I broke into the music business," she says.
To say she never looked back is a vast understatement and doesn't aptly capture the years of continued hard work, disciplined artistry, and creative gumption which led to her signing numerous recording and composition deals, and appearing on Broadway, off-Broadway, and West Coast stages, all of which have won her chart placements, recognitions, and awards, including an ASCAP award for writing the No. 1 Billboard-charting international hit, "The Lover That You Are."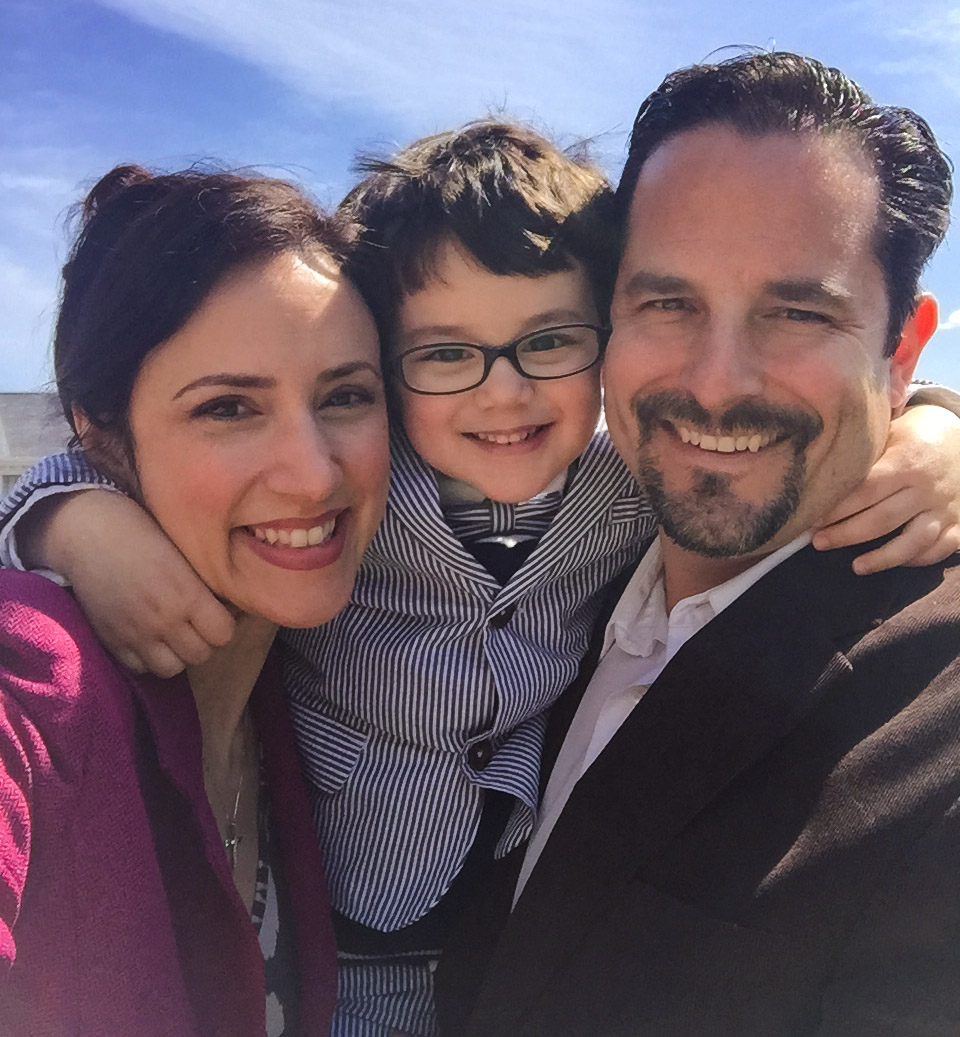 She is probably best known for her starring role as Maureen in the Pulitzer Prize and Tony Award-winning musical, Rent, directed by Tony Award nominee Michael Greif, in the Los Angeles West Coast premiere and on Broadway. Among other Broadway and off-Broadway roles, she also originated the female lead role of Wendla in the Tony Award-winning musical, Spring Awakening, working with Tony and Grammy Award-winning composer Duncan Sheik and Tony Award-winning director Michael Mayer at the Sundance Theater Lab. She had prominent roles in Do I Hear a Waltz? at the Georgestreet Playhouse, where Carla had the opportunity to work with the legendary Tony Award-winner, Arthur Laurents, and presented the show for the composer himself, Tony Award-winner, Stephen Sondheim. 
She also signed a distribution deal with Sony/RED, releasing two albums as a recording artist on her own label, Ivory Note Records. 
But Carla's focus and attention have never strayed, despite international press coverage, including features in publications such as The New York Times, The New York Post, and The Huffington Post, and television performances including Good Morning America and The Jerry Lewis Telethon, as well as sharing the stage with the likes of Platinum-selling Grammy winner Kenny Loggins, Platinum-selling Grammy nominee Gino Vanelli, Platinum-selling band Rusted Root, and Grammy nominee and Independent Music Award winner Seth Glier.
 "No matter what path I went down in life, it always came back to music and God," she says.
Even after establishing herself as a gifted actor in commercials and notable films like Denzel Washington's film Unstoppable, and a scene playing opposite Matt Damon in Promised Land, Carla's heart has been to use her artistry and her life for the good of others.
It was that call to be a blessing and to care for others that ultimately changed the course of Carla's life. After composing an autobiographical song cycle that transformed into a musical called Kaleidoscope, which was ultimately accepted into the prestigious ASCAP/Disney Musical Theater Workshop directed by Tony and Grammy Award-winning composer Stephen Schwartz, Carla got a call that her dad had cancer. 
"As the piano was being delivered to my apartment so I could start to work on re-writes for the show after the workshop, I went into the street and told the men on the truck to take the piano back," Carla says. 
She went home to Pennsylvania and spent the next two months with her father before he passed away, and then stayed to help her mom and do what she could do to enrich her hometown.
She helped found the Lincoln Park Performing Arts Center, worked as Director of Outreach, putting arts programs together while working with at-risk and disabled youth.
"I felt like God was using me for good in the world," says Carla.
As Carla's professional focus shifted, so too did her personal life take on a new direction when she met and married Jack Becker, a writer and television producer for AT&T Sportsnet, who produces the Inside Pirates Baseball show. Deeply desiring to start a family and continue making music, Carla prayed for direction and blessing.
"I felt God calling me to finally record an album," says Carla. "After all my travels and achievements, it was the one thing I had never done and truly yearned to do."  
Her prayers were soon answered, as she felt the call to write music again. After a vacation to the Outer Banks, they came home to discover she'd written an entire album's worth of material and was pregnant. That album would be her first Sony/RED album. Called All This Time, she dedicated it to their son, Luca. However, when her son was only one year old, tragedy struck once more when her mother died unexpectedly. 
Carla continued writing, and released her second Sony/RED album, an EP entitled Give Voice, all written and performed for charity, supporting causes including autism and suicide awareness. Still, internally, her restless heart was not at peace. 
Feeling a call to spend time alone with the Best Friend who had been with her from the very beginning, Carla went on a retreat, immersing herself in scriptures like Psalm 137 and Isaiah 43, when something broke loose within her spirit and a "waterfall of love" overwhelmed her heart. 
"I could not believe this mighty God I believed in my whole life, who I called my Best Friend, truly loved me so completely," she said. "I had never really received that love so fully in my heart before. A lifetime of self-condemnation was being healed in that very moment. I was in a state of peace and joy like I had never known before. I thought if God loves me this much, I want to love Him back with my life."
Carla returned from her retreat, feeling and answering a call to start a ministry called Hearts on Fire to spread God's message of love to help others in need of healing through music and visual arts. Simultaneously, she felt clarity in her spirit that she needed to refocus on writing music, but somehow she felt stuck. 
"I prayed and told God that if He wanted these songs to get recorded or out in the world, He was going to have to do it," said Carla. 
The next morning, she woke up with the entire arrangement of "Vessel of Your Love" in her head. Other songs of praise, self-acceptance, redemption, and gratitude flowed. Soon after connecting with producer Sam Hart in Nashville, Carla had an entire project recorded and ready to share with the world. 
"God had now opened wide the door for new music for His glory," says Carla. 
Even more, God had revealed that her entire life had been a journey of healing leading straight to His open arms. Whereas she looked back and saw failure, He saw adjustments, shaping, teaching so that she could not only glorify Him with her many gifts and give love to others, but finally receive His love herself. 
"I realize now that God is everything, and He is in everything, not just music," says Carla with gratitude. " I thank Him with everything that I do in my life, whether it's making my son a peanut butter and jelly sandwich for lunch, praying with a sick neighbor, cleaning my house, walking my dog, and yes, writing a song… it's all for God's glory."